Portraits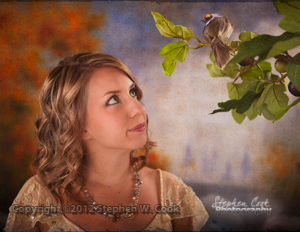 Portraits have been a unique art form for hundreds of years. Memorable works have been created by great artists like Rembrandt, Yosef Karsh, and even Pablo Picasso. The element that made their images intriguing is not their craftsmanship as a painter or photographer, but their skill at imbuing the image with the essence of the person.
At Stephen Cook Photography, although we avoid the extremes of Picasso, we work to create images of the highest photographic craft which are infused with the personality of our clients. This creates a unique image that will be cherished for generations.
Our photo sessions are fun!
Our team works with you to identify your unique personality by exploring your hobbies, work, family - all the elements of life that make you, well ...you! The magnificent look and feel of a well-crafted portrait conjures images of the great masters and the wonders of great art. The revolutions in photographic technology allow us the freedom to create stunning images anywhere.
In the studio or on location we work with you to create a true reflection of you in every photograph. All the while having a good time. Stephen and Ginger work with you before the photographic session to identify the best wardrobe, location and feel for your portrait. We will creatively direct you to capture your unique character, interests, and relationships.
Whether capturing a portrait to commemorate a milestone, a business portrait, your family, generations, or a gathering of friends, Stephen & Ginger will create lasting memories. Creating your portrait will be an exciting, fun, and memorable experience.
Give us a call, an e-mail, or a tweet to find out more.
Who is Stephen Cook Photography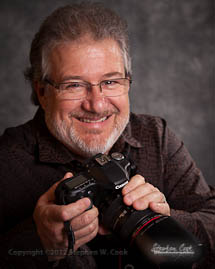 Stephen Cook Photography is the working collaboration of the husband and wife team of Stephen and Ginger Cook. With thirty years professional experience, Stephen is a skilled photographer. A degree in photography enhanced his passion and appreciation of its art, craft and science. He then established a career in commercial, advertising, and fine art photography for clients all over the world. Stephen's expertise in lighting and composition will coach you in creating portraits that are truly personalized.
Ginger has twenty years experience in greeting card design, calligraphy, and custom made jewelry. She enjoys using portraits to create avant-garde heirlooms; whether it's a piece of jewelry, framed photo collage or a coffee table book; these pieces make thoughtful gifts and uniquely personal home decor.
Personalized Portraits
uses Thumbtack.com