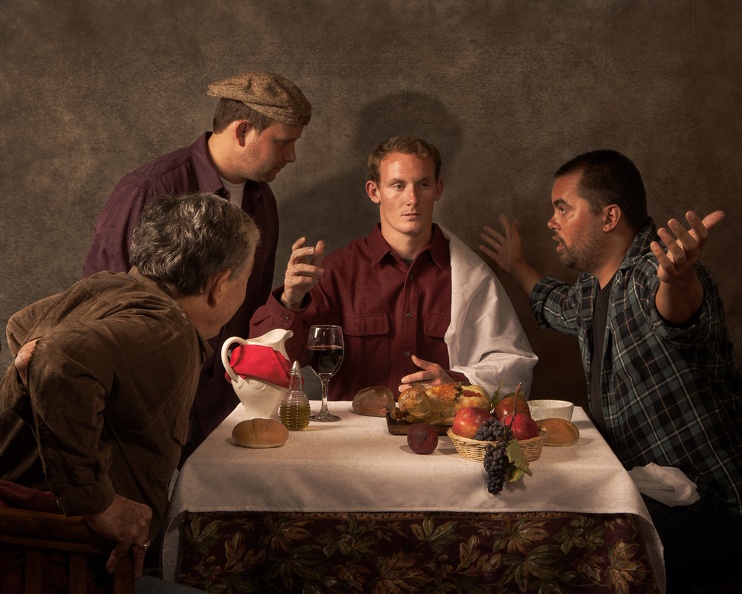 Caravaggio was commissioned by the Mattei family in January of 1602 to create 'A painting of our Lord breaking bread'. The result was his first Supper at Emmaus now in the National Gallery in London. It illustrates Luke 24 at the moment the two disciples are revealed the true identity of Jesus. The painting was met with mixed reviews criticizing the poverty of the subjects, the youthful and beardless Jesus, the environment they are in, and decaying fruit. All of these were not Caravaggio's thoughtless literalism, as expressed by Giovanni Bellori in The Life of Caravaggio, but carefully crafted symbolism.

Caravaggio's use of peasants and working class subjects was often a point of contention with his critics. The subjects were his friends and acquaintances from the streets, taverns, and brothels of Rome. His choice of a beardless Jesus is reputed to be inspired by Mark 16:12, "After that, He appeared in a different form to two of them while they were walking along on their way to the country."

The characters in the painting, besides Jesus, are the two unnamed disciples seated at the table and the inn keeper looking on perhaps wondering if he will get paid for the meal. The two disciples are portrayed at the moment Jesus' identity is reveled.
Keywords

Albums

Visits

1237